Para Para Paradise 2nd Mix: Shinobu
Done by A-kon 2004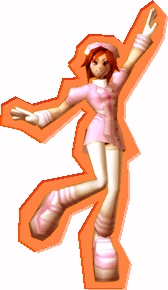 Note that that picture is the ONLY ONE there is of Shinobu. I had to go to the source - the arcade machine - to get details. Well, that was the case with Naoki, as well, but it was slightly easier to do Naoki research because (1) I have the game, so I could look easily from home, and (2) the characters in DDR spin around randomly. For PPP research, I must go to the arcade. And then wait for someone to select a song for which the dancer is Shinobu, because each song gets assigned a particular character. And that only helps if the person picked freestyle mode, so she spins around.

Just to find out that no, she does not have a floofy bow or anything on the back of her dress - it is actually very plain x.x

I planned to do Shinobu at A-kon 2004, but I couldn't manage to get the costume to both look good and wear well. Cosplaying a Para Para Paradise character pretty much requires a costume in which I can...dance parapara. I still have the costume notes, patterns, nurse hat and some other random materials, so I may go back to this one with better knowledge of how different fabrics work and try it again. I think the key to making the costume danceable is doing two pieces instead of an actual dress like Shinobu has.