Pokémon: Team Magma
Completed May 2007
Worn at Acen 10 ('07), A-kon 18 ('07), AnimeFest '07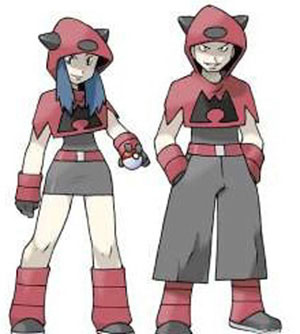 This costume is up there with Shuuichi for being one of the most darn comfortable, because of all the soft fleece involved. The only difficulty is the hot pleather underneath that, but it's not so much I can't handle it. I had to re-do the skirt and top a couple times, because the first version of the skirt came out far too short and the first top didn't have enough seam allowance at the top of the zipper to fold it under, and it would have been horribly chafing and painful.

Other than those mis-measuring mistakes, it was really very simple to make, and I didn't use bought patterns for any of it except the skirt (and that was just using an old pattern I already had). The capelet is really my favorite part, because not only is it soft and fleecey, it has the cute "M" applique on the front and horns on the hood. I sewed all those on by hand with a very close-together applique stitch, so the edge looks pretty seamless, especially from afar. The horns are just stuffed with some polyester filling I had sitting around, and are delightfully squishy, though occasionally they start to droop so I have to punch them back into shape.

I do end up taking my gloves off half the time when I'm walking around in costume, because they're my winter gloves and I can't manipulate my camera very easily with them on. If I can figure out how to get the measurements right, I still plan to make a custom-fit pair out of thinner material in the hopes that it'll help and I'll be able to both wear gloves AND use camera, but the thick ones are fine for now.

ACen 10 & A-kon 18: Sadly, I didn't get to wear this costume as much as I would have liked, but when I did have it on I was recognized quite a bit. However, I didn't get a chance to go to the Pokemon photoshoots at either convention because I was on shift as staff (ACen) or going to a panel I didn't want to miss (A-kon), so hopefully in the future I'll be able to geek out with other Pokemon fans more instead of wandering around by myself.

AnimeFest '07: The fleece made me feel warm and fuzzy outside, and all the Pokemon fans getting excited over a Team Magma cosplayer and wanting to hug me made me feel warm and fuzzy inside. I was surprised at how many fans I met! Unfortunately, I need to fix the Pokeball (or just get a new one), as the chain I had on it broke so I couldn't attach it to my belt.