Phoenix Wright: Miles Edgeworth
Completed May 2007
Worn at ACen 10 ('07), A-kon 18 ('07), AnimeFest '07
Retired 2007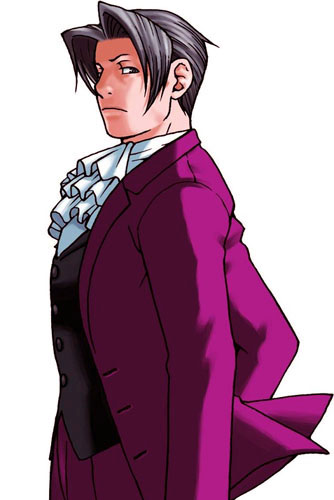 Making a suit from scratch was an epic adventure, beginning several months before Anime Central with locating the fuschia wool crepe, and ending the night before the con sewing on buttons. I'm not quite sure how I managed to start out SO early and still have things being done last-minute, but there was probably a good deal of laziness, fear of cutting into such expensive fabric, and spring semester classes in there. Also, I was helping out with the other three costumes of our group (Phoenix, Larry and Franziska) which put us in a bit more of a crunch.

Finding all the right materials to do this was fun - things like black satin and faux suede, make-your-own buttons and of course smaller items like basic interfacing and thread could all be found at the local fabric store, but I had to search online and order jacket interfacing, shoulder pads, and more creative colors of fabric. Construction went well once we figured out what we were doing, though maybe someday I'll re-do my jacket, as I'm not entirely satisfied with how some of the details came out, such as the lapels and the un-darted front panels. As it is, having worn the costume hardcore for three conventions, I've retired it unless someone has a pressing need for an Edgeworth cosplayer. It's a pain to pack up all the little pieces and put them all on, so it has no future as a 'spare' or 'backup' costume.

I'm very proud of us learning how to do pockets, and dye wigs, as these are skills that will be useful in many future costumes.

ACen 10: As a costume debut, it was excellent; we had our own little group of four characters from the game - unfortunately, Neko/Larry came down with some con plague, so whenever he wasn't actually on duty as a staff member, he was hanging out in staff-only areas or trying to sleep off his illness in his room, so we don't have any pictures of him from the con. Caitlin/Phoenix and Dawn/Franziska were also staff, and according to them one of the Japanese bands, the Spiral Spiders, fanboyed over their costumes - unfortunately, I never got to meet them ;_; The excellent moment that could have been, but was not!

A-kon 18: Compared to ACen, this con was 10x better in terms of how much fun I had in costume. Larry failed to make an appearance again, due to work issues, but I geeked out by rooming with a couple girls cosplaying as the Skye sisters Lana and Ema, and my Phoenix and Franziska showed up at the Phoenix Wright photoshoot. I got to meet several fans from the livejournal community and we hung out for nearly an hour in a corner of the convention center, shouting "Objection!" at each other and taking pictures. Photos of some of the other cosplayers are in my A-kon photos folder.

AFest '07: Third time's the charm, and this con was full of Gyakutarding by all involved. We had the photoshoot, with Nostalg*a providing lots of hilarity from Adrian, Matt and Juan, and Larry was there the entire time as well! Unfortunately, we lost the Phoenix and Franziska of our group to a job in the dealer's room with another friend of ours selling tea, but all our buddies from A-kon were in attendance and we rocked out.

Phoenix Wright: Miles Edgeworth (pajamas)


Completed May 2007
Worn at ACen 10 ('07), A-kon 18 ('07), AnimeFest '07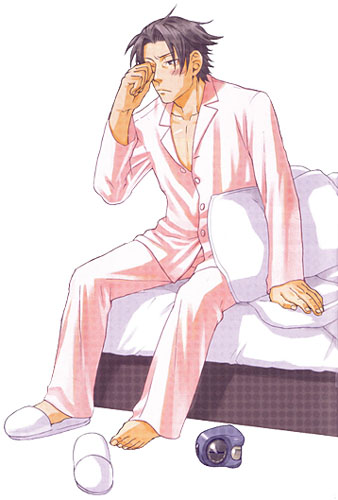 One of the game guides/artbooks has this image of Edgeworth in his pajamas, and it being so simple to put together (or so I thought, I had a rather difficult search for PLAIN pink pajamas with no stripes or embroidery, and PLAIN white fuzzy slippers that were actually styled like his) I decided to do it as my pajamas for the conventions at which I was already wearing the full getup. So I wandered around at night in my pajamas and the wig, and just taking the wig off to go to sleep.

I'll probably just bring these pajamas to EVERY CONVENTION I ATTEND from now on, because it's not that big a deal to toss the wig and fuzzy slippers in my suitcase in addition to a pair of pajamas that I would be bringing anyway. Of course, this means my Edgeworth wig must stay with me instead of being recycled to some other wigless Edgeworth cosplayer, but that's something I can deal with.

A-kon 18: Me and my hotel roommates were leaving the room to meet up with Joss and her buddies and hang out, and a drunk guy waiting for the elevator on our floor actually recognized me JUST from the hair - he had never seen the artbook. Maybe he had seen me in full costume earlier, but either way, I was quite surprised and pleased.

AFest '07: We planned a Phoenix Wright pajama party in my hotel room on Sunday night. Obviously, there was nothing else I COULD have done but wear these pajamas! It was pretty amazing - many of the people in the room were in their interpretations of PJs, which was pretty neat, and we had fun being stupid and immature. Geeking out with fans is pretty awesome.