Ayashi no Ceres: Alexander O. Howell
Completed May 2002
Worn at A-kon 13 ('02)
Retired 2002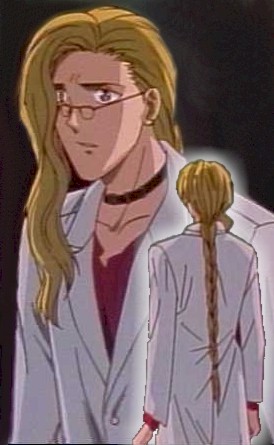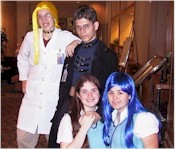 I spontaneously got into my head to do this costume (if I remember correctly) when Rachel (in the photo as Ceres) mentioned that she and some other people were going to have an Ayashi no Ceres cosplay group for A-kon 2002. Alec is adorably cute. And he likes anime, and his voice actor is Seki Tomokazu, and therefore he is automatically cool! He's the good guy on the bad guy's side, and many times in the series I've just wished I could go hug him.

The Goodwill store is a wonderful, wonderful place. I bought my shirt and pants there for less than $10. Technically his shirt is long-sleeved, but...*shudders* Texas + summer + DOUBLE long sleeves = dead Ali. I bought the belt and earrings (woo, cheap $1 silver-colored non-crappy crap!) at my favorite store ever, Target, and...I am stealing my little brother's semi-dress shoes, because they are black but not fancy or uncomfortable. He will not need them! Hmm, perhaps since his feet are probably still growing, he will grow out of those shoes and I can keep them so that if I have a need for plain black shoes after I leave home, I won't have to buy myself a pair.

The necklace was fun to make. I had made a green leather choker before so I just used the same technique on a piece of black leather. His is probably actually buckled, but I had only a small amount of scrap leather in black, so I went with what I knew so I didn't have to buy more. I mauled a bunch of floppy disks for their metal slidy things and then folded those onto the leather and secured them with Krazy Glue - mad scrounging skillz!

I finally went out and bought the lab coat a few weeks before the end of school - I looked up a couple uniform stores in the phone book and shopped around. The first store had a really scary lady at the counter and I poked around and then scurried away. She was not quite un-friendly, but not helpful and nice either - haha! I did not buy anything from you, scary lady! The next store had what I wanted, AND friendly person at the counter. I spent almost $30, but I can re-use the coat - wear the costume again, make it double as a Watari coat or something else, even loan it to someone - it is a very useable piece of clothing.

I am sad, because I could not make my wig go wavy. But, after braiding it and re-braiding it almost a dozen times, I made the braid look right...too bad you can't see it in any of the pictures. The costume is officially retired, though, because I sacrified the non-wavy bangs and the perfectly woven braid to make Larxene's wig. I'll still have excellent memories of my first time in a cosplay group.

A-kon 13: There are too many pictures of me floating around without the rest of my group (but we got tackled a lot as a group too, so that is good). I met a few Alec fangirls and some Ayashi no Ceres in general fans. One guy surprised me, he had only seen the beginning of the series where Alec is not even introduced by name yet and he recognized me - cookies for him!